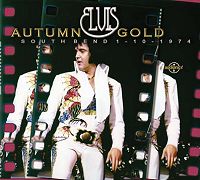 - Official release Dragonheart
- and From Sunset To Vegas
AUTUMN GOLD - (Audionics 2012-01-02) (Released 2012)

This time Audionics has taken material already available on FTD releases. This double CD contains the South Bend show from October 1 1974, first out on Dragonheart already in 2003. The sound is slightly better this time. Dragonheart from FTD was one of the most "compressed to death" release from FTD ever!

CD-2 contains large part of the Hollywood rehearsal on August 16, 1974. This material has been released many times, also officially. This time it comes in true binaural sound.