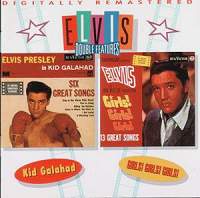 Updated soundtrack

King Of The Whole Wide World
This Is Living
Riding The Rainbow
Home Is Where The Heart Is
I Got Lucky
A Whistling Tune
Girls!Girls!Girls!
I Don't Wanna Be Tied
Where Do You Come From
I Don't Want To
We'll Be Together
A Boy Like Me, A Girl Like You
Earth Boy
Return To Sender
Because Of Love
Thanks To The Rolling Sea
Song Of The Shrimp
The Walls Have Ears
We're Coming In Loaded
Mama (short version) [*]
Plantation Rock [*]
Dainty Little Moonbeams [*]
Girls!Girls!Girls! (end title version) [*]

[*] Denotes previously unreleased material.