---
PIECES OF MY LIFE (Straight Arrow - SA 2005-1-02) (Released 2005)
---




1. Review by Kresimir Bandalo

Asheville, July 24 1975

Also Sprach Zarathustra
That's All Right
I Got A Woman/Amen
Big Boss Man
Love Me
If You Love Me
All Shook Up
Teddy Bear/Don't Be Cruel
Hound Dog
American Trilogy
Heartbreak Hotel
Jailhouse Rock
Something
Return To Sender
Wooden Heart
Hawaiian Wedding Song
Bridge Over Troubled Water
Polk Salad Annie
Band Introductions
Johnny B. Goode
Drum Solo
Bass Solo
Piano Solo
School Day
T.R.O.U.B.L.E.
Shake A Hand
Introduction of Vernon Presley and Dr. Nick
Pieces Of My Life
How Great Thou Art
Can't Help Falling In Love
Closing Vamp/Announcements

Content: 5 Sound: 2+ Artwork: 5+
---
Review by Kresimir Bandalo

This CD contains the last show of July 1975, in Asville, Nort Carolina. And what a concert! I think this is one of the best Elvis concerts in years, side by side with the performances in Dallas and Birmingham during the short 1976 winter tour.

Elvis is obviously in high spirit, he literally attacks every song - even the oldies are performed slower than usual. His voice is full and strong. He sings some very rare songs that night, some of them by request from audience: 'Something' (for the very last time), 'Return To Sender' (this version is 10 times better then Hampton Roads version a year later), 'Wooden Heart' (sloopy), 'Shake A Hand' and 'Pieces Of My Life' (the only live version). Amen is the longest i've ever heard from our man - it keeps on and on! The crowd is loud and thrilled from the begining to the end of the concert, like they've felt Elvis special mood. There is not much talking and fooling around, even James Burton is alowed to play his great 'Johnny B. Goode' solo without Elvis interrupting. All in all, a great concert.

SOUND:
The sound is very good for an audience recording. Ok, this is not the first class stereo audience recording like on imports From Vegas To Macon or Adios, but sound is very clean and you can hear Elvis and the band very clear. The people behind the new Straight Arrow label claim this is the first generation copy of the master tape. The tape has some slight distortions, but the whole cd is very listenable. The speed is correct all the time, unlike some CD-R editions of this concert.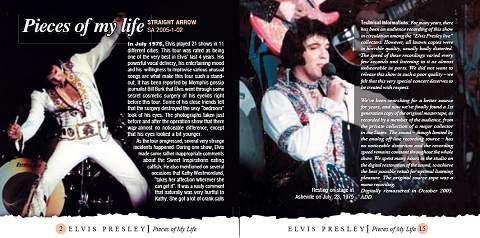 ARTWORK:
The CD comes with 16 pages booklet, with some very nice pictures of Elvis, details from july tour and very interesting informations about Elvis strange behaviour during the tour. Very classy!

CONCLUSION:
After this succesful tour, Elvis was in Vegas in August, giving some bad shows, fooling around, forgeting the lyrics. He ended in hospital. He'll be back in Vegas in December, making up the dates that were canceled in August. These shows were good, Elvis was having fun and the engagement wass a big succes. New Years eve follows, the great concert again. 1976 came. It will be a troubled year.. This particular concert in Ashville is really a special Elvis concert, and probably the soundboard tape will never be found (I hope I'm wrong!), so my advice is to get this one. You won't be disappointed!

© , Croatia, December 2005
---
---