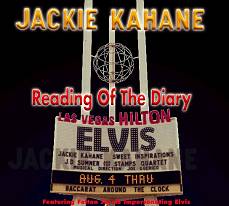 This release contains a 20 minute telephone interview with Jackie, some rare recordings of Elvis and his group on tour and last but not least a recording of the reading of the diary. Jackie wrote a diary on every tour he was one with Elvis. When the tour was over the band and all the crew people always had a party (not attended by Elvis) were Jackie would read the diary and make fun of some of the things that have happened on the tour. This time (July 1976) Jackie interviewed Felton Jarvis (who's dressed up as Elvis and acting like him).

"Jackie a very funny man who can make all age groups laugh without embarrassing anyone" (Tom Parker).
"Goddamn!"

The CD starts with some seconds of Elvis in Las Vegas on September 2 1974. "Who fixes this microphone... Did Jackie Kahune do that, whatever his name is..." From there it sequenze into an after-tour party on July 1976. Jackie Kahane interviews Felton Jarvis who pretend he is Elvis. What follows is 20 minutes of mostly low-intelligent humor, where Jarvis more or less answers every question with "Goddamn", "fuck" etc. The band sitting by laughs like no tomorrow!

There are some quite fun spots on this interview, however. Jarvis gets better and better caricaturing Elvis and there are moments when he is very good! All in all it is fun to listen to this track as it displays Elvis' entourage in a private setting. The main person is missing however.

Track 2 is a telephone interview with J. Kahane. It takes some minutes before Jackie if fully awake. He has to give some examples on what he said on tour with Elvis, what kind of jokes he served the audience and so on. At the end the radio station plays Jackie's own song, "I Know The Truth". If you like this kind of drama you will probably find it heartfelt and caring. Personally I almost had to turn off the CD player... this kind of half-religious shit bugs me, really!

The disc closes with almost 40 minutes of On Tour interaction between Elvis and his crew. Not very interesting, but nice to have all the same.

This CD is well worth having. When I first listened to it, I felt sort of privileged. This is a CD displaying a fascinating side of the Elvis world that up till now has not been too familiar. You will probably not listen to it very often, perhaps only once, but it leaves an impression!

The CD is presented in a nice digi-pack - a classic EU trademark. The price is 149 DKK.

© Oven Egeland, Elvis In Norway, 2003.