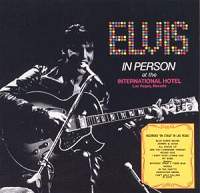 A 2-CD edition of Elvis In Person, in the classic album series. It comes in a 7" deluxe package like others in this series and in the soundtrack series. Released in December 2008.

It contains the original release (CD-1). In addition the '69-numbers from On Stage are featured as are the rare songs, first found on Collectors Gold. The sound quality is very good on the original tracks. As for the bonus cuts, one should notice that all songs first featured on Collectors Gold have been heavily remixed. While Elvis was UPFRONT on the early 90's release, he is quite back in the mix on this release. A retro mix, sort of. I like it.

CD-2 features the dinner show from August 22 1969. This show is mainly unreleased up till now! The mix and sonic quality is very good. It is quite different from the mix found on Viva Las Vegas (2007). While the sonic quality on Viva altogether is superior, I like the mix found on this CD better. Now you can hear almost everything that happens on stage, most noticeable on 'Suspicious Minds'. The backup singers and the strings sections are audible, which in my point of view is necessary to get the "good" 'Suspicious Minds' feeling. On Viva Las Vegas you could hardly hear any backup singer or strings section. There is, however, a slight problem with Elvis' microphone in places. It sounds a bit fragile, but fortunately not too much. The same problem was evident also on the mentioned Viva-release covering two shows from the day before (Aug. 21).

The show quality is also very good. Elvis is mainly focused, far from what took place on August 26 Midnight show (as found on All Shook Up). All in all it is a helluva concert..:-)

This could easily be my "default" 1969 show to stick to!

Thumbs up and highly recommended!
CD-1: Original release and more

Blue Suede Shoes
Johnny B. Goode
All Shook Up
Are You Lonesome Tonight?
Hound Dog
I Can't Stop Loving You
My Babe
Mystery Train/Tiger Man
Words
In The Ghetto
Suspicious Minds
Can't Help Falling In Love
Runaway (On Stage)
Yesterday (On Stage)
This Is The Story [Collectors Gold]
Inherit The Wind [Collectors Gold]
Rubberneckin' [Collectors Gold]
Reconsider Baby [Collectors Gold]
Funny How Time Slips Away [Collectors Gold]

CD-2: Las Vegas, Aug. 22 1969 DS

Blue Suede Shoes [Viva Las Vegas (2007)]
I Got A Woman
All Shook Up
Love Me Tender
Jailhouse Rock/Don't Be Cruel
Heartbreak Hotel
Hound Dog
Memories
Mystery Train/Tiger Man
Monologue [Viva Las Vegas (2007)]
Baby What You Want Me To Do
Runaway
Are You Lonesome Tonight?
Yesterday/Hey Jude
Introductions
In The Ghetto
Suspicious Minds
What'd I Say
Can't Help Falling In Love