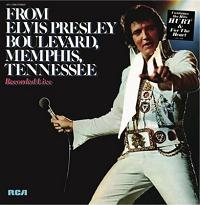 Jungle Room, Graceland - February 1976

This 2 CD Classic Album update from Follow That Dream contains all masters, several previously released and new outtakes.

Most material have been out on good sounding bootlegs, but take 4 of 'Blue Eyes Crying In The Rain' and take 6 of 'Bitter They Are, Harder They Fall' are both totally new for most Elvis fans.

There are some gems on the outtakes featured here. However, FTD has also decided to create new versions, and new mixes. Hopefully that is not something they will do too much of in the future...
CD-1: Original album and outtakes

Hurt
Never Again
Blue Eyes Crying In The Rain
Danny Boy
The Last Farewell
For The Heart
Bitter They Are, Harder They Fall
Solitaire
Love Coming Down
I'll Never Fall In Love Again
Hurt (1*, 2) [Platinum]
Never Again (11) [Jungle Room Sessions]
Blue Eyes Crying In The Rain (4*)
Danny Boy (9) [Platinum]
The Last Farewell (splice 3/2)
For The Heart (1) [Platinum]
Bitter They Are, Harder They Fall (6*)
Solitaire (3) [Jungle Room Sessions]
Love Coming Down (3) [Jungle Room Sessions]
I'll Never Fall In Love Again (4*, 5) [Jungle Room Sessions]
For The Heart (6*, 5B*)
Hurt (splice 4*/3)

* Denotes previously unreleased material
CD-2: Undubbed masters and outtakes

For The Heart (2, 3) [Jungle Room Sessions]
Bitter They Are, Harder They Fall (1) [Made In Memphis]
I'll Never Fall In Love Again (1*, 3*)
Hurt (3) [Jungle Room Sessions]
The Last Farewell (1*)
The Last Farewell (2) [Jungle Room Sessions]
Never Again (2*, 3*, 9*)
For The Heart (4) [Today, Tomorrow And Forever]
Danny Boy (6*, 7*)
Danny Boy (8) [Jungle Room Sessions]
Love Coming Down (4) [Made In Memphis]
Blue Eyes Crying In The Rain (1*, 2) [Jungle Room Sessions]
Solitaire (5*, 7) [Made In Memphis]
Hurt (6*, 5) [Today, Tomorrow...]
Bitter They Are, Harder They Fall (3, 4, 5) [Jungle Room Sessions]
For The Heart (5A) [Made In Memphis]
The Last Farewell (4, 5/3 [M]) [rough mix master]
I'll Never Fall In Love Again [rough mix master]
Never Again (remix)
Danny Boy (master rough remix)