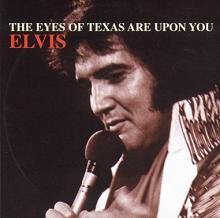 The Howdy Houston release planned a year ago doesn't seem to show up. However this CD features the concert the day before, June 4 1975 - also in Houston.

We're talking about a soundboard release from June 1975. Like the other soundboards from this specific tour this isn't a complete one. It's starts in 'Amen' (I Got A Woman/Amen).

Released several years ago in a lousy audience recording on the awful Groti label, now available in soundboard quality. There is also said to be released a bootleg called The Eagle Has Landed (Moon) featuring this soundboard, where T-R-O-U-B-L-E is incomplete and the overall sound is of less quality?
Houston, June 4 1975

...Amen
Love Me
If You Love Me
Love Me Tender
All Shook Up
Teddy Bear/Don't Be Cruel
Hound Dog
The Eyes Of Texas (10 seconds)
The Wonder Of You
Burning Love
Band introduction
Johnny B. Goode
Drum solo
Bass solo
Piano solo
School Days
T-R-O-U-B-L-E
Why Me Lord
How Great Thou Art
Let Me Be There
American Trilogy
Funny How Time Slips Away
Little Darlin'
Mystery Train/Tiger Man
Can't Help Falling In Love
Closing Vamp

Content: 4 Sound: 4- Artwork: 3