---
GOODBYE MEMPHIS - (Fort Baxter 2202) (Released 1997)
---
CD-1: Memphis, July 5 1976:

Also Sprach Zarathustra - See See Rider - I Got A Woman/Amen - Love Me - Fairytale - You Gave Me A Mountain - All Shook Up - Teddy Bear/Don't Be Cruel - And I Love You So - Jailhouse Rock - Fever - America, The Beautiful - One Night - That's All Right - Blue Christmas - Band Introductions - Early Morning Rain - What'd I Say - Johnny B. Goode - Band Solos - Love Letters - Band Introductions - School Days - Hurt - Hurt (full reprise)
CD-2: Memphis (cont.) - Toledo, April 23 1977 - Homerecording, Nov 1973

Hound Dog - Funny How Time Slips Away - Help Me - How Great Thou Art - Softly As I Leave You - Polk Salad Annie - Jambalaya (one line) - It's Now Or Never - Can't Help Falling In Love - O Solo Mio/It's Now Or Never - Little Sister - Teddy Bear/Don't Be Cruel - And I Love You So - Fever - Polk Salad Annie - My Way - Band introductions - School Days - Hurt - Hound Dog - Can't Help Falling In Love - Closing Vamp - Baby What You Want Me To Do - Spanish Eyes

Content: 5 (Memphis)/ 4- (Toledo) Sound: 5+ (Memphis) / 4- (Toledo) Artwork: 4




---
1. Review by Espen Krømke

This dual CD release has three "segments": The main attraction is the Memphis concert on July 5th, as a "bonus" we also get 13 tracks from his concert in Toledo April 23rd 1977, as well as a couple of "home recordings".

I want to start this review with a few comments on the "bonus content", simply 'cause there isn't much to say about them so let's get that done with before we focus on the real gem.

On the 1977 concert recording the sound is awful in a very digital way like it has been treated with heavy compression on the Real Audio format before it reached Fort Baxter. Unfortunately (or luckily, depends on how you see it) Elvis' performance match the sound quality. Uninspired, tired, or as Oven loves to put it: "All in a days work". There really isn't much more to say! I've listened to this concert without skipping only once, and that time I didn't really pay attention to what I was playing.

At the very end we get two home recordings. I guess most of you have already heard other home recordings and know what to expect, but for those of you who haven't: It's nothing exciting at all. The sound suck, and the only value (if any) must be of purely historical reasons.
It is of course nice that Fort Baxter filled the CDs with content rather than leaving it blank so creds to them for that, and none of the "bonus material" is worth a release of its own anyways. But now - let's focus on the real deal with this release: The July concert in Memphis.

Over the years we got literary hundreds of recordings of Elvis concerts. And since the band members, set listing, arrangements and show elements during the 70s stayed more or less the same tour after tour, we are forced to seek other criteria when we pick out a few concerts that stand out from the rest.
To me, this is one of those releases. Not because it has a particularly good sound, 'cause it hasn't. Not because Elvis performance is particularly good, 'cause it isn't. It is mainly for historical reasons: His very last performance in his hometown. That alone makes this a must-have, in my opinion. But it is not the only reason.

The sound quality on this release is unfortunately tainted by the loudest sounds being a bit distorted, probably from the source. This is luckily not happening during the whole show, just in some short segments when they play/sing real hard (like when Elvis do the ending on Hurt).
Apart from that the sound is of a quality you can expect from a soundboard recording. An important detail regarding the recording of this concert is that you hear the audience very well, and that is not always the case with soundboard recordings. To me, hearing the audience is a crucial part of a live concert, and adds "that little extra" to this recording.

In order to enjoy this concert to the fullest, pump up the volume, close your eyes and put yourself into the following setting: The summer of 76, Elvis is returning back home to Memphis to end this tour and will do so by playing for his neighbours and friends. And this is his very last concert in his dear hometown; this is his "goodbye Memphis". If you don't feel shivers down your spine a few moments during this recording you have no feelings at all (or don't care much about Elvis and his life).

Elvis is in a calm and happy mood, he is back home, on familiar grounds. And Memphis loves Elvis, he is their pride. That gives a friendly, relaxed and in many ways personal atmosphere to this show that makes it, despite all, one of my favorite releases. He sounds awake and has a clear mind, not dominated by nerves or chemical substances.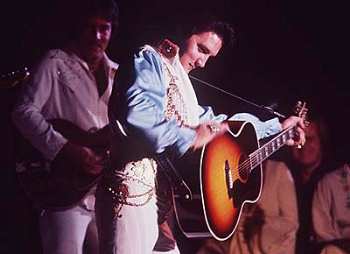 It is a bit hard to pick out single highlights from this concert; it's the overall feeling of the show that captures me. But I love the introduction of 'That's Allright:
- "The first recording that I did here in Memphis was That's all right, Mama. I heard a couple of guys say "You can't do that anymore", well you by God watch me!"

And before the band introductions:
- "I will try to do all the songs you wanna hear cause this is the end of the tour, so I got as long as you have!". Lovely!
Also, on a personal note, this release was the first time I heard 'Softly As I Leave You', and that was a very special moment. I still to this day think that this is one of the best versions he did of this song.

As most of the recordings from 76-77 his voice sounds "worn out" like that of an old man, it sounds 10-20 years older than he actually was. This is of course sad to listen to, but at the same time it makes him "human", and in many ways I prefer this Elvis to the immortal, holy Elvis a few years earlier that had a never-ending reservoir of powerful vocal, delivering rock steady notes at any velocity, any day of the week. The Elvis you hear on this recording is your buddy Elvis, your long time companion and trusted friend who you would pat on his back after the concert and say "Hey pal, good show! Now let's head back to Graceland and get a burger and play some pool, shall we?"

It is the combination of the historical setting, the atmosphere and the relaxed Elvis just being himself in front of his hometown audience that makes this one of my most valued bootlegs in my collection.

© , Oslo, Norway - July 2005
---
---