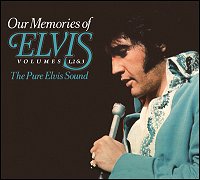 Original album

Are You Sincere (1)
It's Midnight
My Boy
Girl of Mine
Take Good Care of Her
I'll Never Fall in Love Again
Your Love's Been a Long Time Coming
Spanish Eyes
Never Again
She Thinks I Still Care
Solitaire
I Got A Feelin' in My Body
Green Green Grass of Home
For The Heart
She Wears My Ring
I Can Help
Way Down
There's A Honky Tonk Angel
Find Out What's Happening
Thinking About You
Don't Think Twice It's All Right (jam #1)

Bonus

Woman Without Love
Moody Blue (complete)
When I'm Over You
It's A Matter Of Time
Sweet Angeline
Hurt
Shake A Hand
Promised Land
Heart Of Rome
If You Don't Come Back
Mr. Songman
For Ol' Time Sake
Love Coming Down
Pledging My Love (complete)
Raised On Rock
The Last Farewell
Fool
.
.
.
.