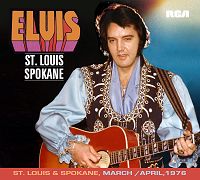 St. Louis and Spokane Spring 1976

A forthcomming 2-CD release from Follow That Dream containing soundboard recordings from Spring 1976. Both shows are previously unreleased, also unofficially (bootlegs), but four tracks from Spokane have been available since America was released in 2008.

CD-1 contains the tour ending show in St. Louis March 22 1976. Hopefully this comes in good binaural sound quality, as previous soundboards from this tour proves such recording. The flow on these few March 1976 shows are a little different, with Larrie London new on drums and Shane Keister new on piano. The second CD contains the complete Spokane concert on April 27, 1976. Previous available tracks from this concert reveals an ok soundboard recording. Generally Elvis was in strong voice on both March and April, though with variations from day to day.
CD-1: St. Louis, March 22 1976

01: Also Sprach Zarathustra
02: See See Rider
03: I Got A Woman/Amen
04: Love Me
05: Let Me Be There
06: You Gave Me A Mountain
07: Steamroller Blues
08: All Shook Up
09: Teddy Bear/Don't Be Cruel
10: Hearbreak Hotel
11: Love Me Tender
12: Polk Salad Annie
13: Introductions (incomplete)
14: And I Love You So
15: Hurt
16: Hound Dog
17: America
18: Funny How Time Slips Away
19: Can't Help Falling In Love
20: Closing Vamp


CD-2: Spokane, April 27 1974

01: Also Sprach Zarathustra (*)
02: See See Rider (*)
03: I Got A Woman/Amen
04: Love Me
05: If You Love Me
06: You Gave Me A Mountain
07: All Shook Up
08: Teddy Bear/Don't Be Cruel
09: Trying To Get To You
10: America
11: Polk Salad Annie
12: Introductions
13: My Way (*)
14: Burning Love (*)
15: Hurt
16: Funny How Time Slips Away
17: How Great Thou Art
18: Hound Dog
19: Can't Help Falling In Love
20: Closing Vamp

(*) Previously released on America