---
ELVIS TODAY - BMG 82876 63927 2
---







1. Review by Oven Egeland
Original release
and outtakes

T-R-O-U-B-L-E
And I Love You So
Susan When She Tried
Woman Without Love
Shake A Hand
Pieces Of My Life
Fairytale
I Can Help
Bringin' It Back
Green Green Grass Of Home
Tiger Man (jam)
And I Love You So (2)
Pieces Of My Life (1)
Fairytale (1*, 2)
Bringin' It Back (1*)
Green, Green Grass Of Home (1)
Shake A Hand (1*)
Susan When She Tried (3*)
Pieces Of My Life (2*, 3*)
And I Love You So (3*)

* Denotes previously
unreleased material
Different mixes
and outtakes

Fairytale
Green Green Grass Of Home
I Can Help
And I Love You So
Susan When She Tried
T-R-O-U-B-L-E
Woman Without Love
Shake A Hand
Bringin' It Back
Pieces Of My Life
Green, Green Grass Of Home (2, 3)
Susan When She Tried (1, 2)
And I Love You So (1)
Bringin' It Back (2, 3)
T-R-O-U-B-L-E (1)
Shake A Hand (2)







CD-1 contains the original masters, plus some outtakes. Only 5 of these are new to the avid Elvis fan. CD-2 contains the first mix down made by Felton Jarvis and Rick Ruggeri. After Elvis heard it he decided that the bass should be replaced. In short it means that Duke Bardwell's bass playing is audible on all tracks on this CD. In addition CD-2 also contains the outtakes that were featured on another FTD CD, Elvis 6363 Sunset.
---
Elvis Today...
(Review by Oven Egeland)

CD-1 contains the original masters in their familiar mix. T-R-O-U-B-L-E comes without the skewed intro that plagued this song on several compilations, most noticeably on Platinum.

Then we get the relatively small amount of previously unreleased takes. First out is take 1 of 'Fairytale', which is a 1:20 long false start. It just stops, like the tape ran out... Take 2 was already made available on Great Country Songs many years ago. It still is a smashing take, in my point of view.

Take 1 of 'Bringin' It Back' contains a very prominent acoustic guitar, and even some less lucky chords. While take 3, first found on 6363 Sunset almost was a carbon copy of the master take, Elvis really approach a different timing on this take 1. An interesting outtake, indeed! A nice, underrated song, by the way.

Take 1 of 'Shake A Hand' finds Elvis almost loosing his voice several places. Take 2, first found on 6363 Sunset is slightly better, though both are sub-par compared to the master!

Take 3 of 'Susan When She Tried' is not far from what the master became. Take 2 of 'Pieces Of My Life' is a false start. Elvis simply says "No...no" after 35 seconds. The following take 3 is a good take. Done in the same way as the other takes we have of this song. There is a slight mic overload on Elvis' vocal on this track.

Here we get the forth take of 'And I Love You So'. This take 3 is really no different than the rest we have.

CD-2 contains the first mix down made by Felton Jarvis and Rick Ruggeri. When Elvis heard them, he was so dissatisfied with the bass line that he ordered it replaced. The master takes were then sent for overdubbing of a new bass (done by Mike Leech this time). Later other instruments, chorus etc. were overdubbed, in true Felton Jarvis style...!

These rough mixes offers quite little, actually. I had hoped for a more noticeable difference. However, if nothing else, we at least now have the undubbed masters. 'Fairytale' comes out better in undubbed format, I think. I have a feeling that Elvis might have been truly disappointed after listening to 'I Can Help' for the first time. It contains a slight error by James Burton at the start and a generally uninspiring guitar line. In addition to a clumsy bass, 'I Can Help' sounds like a different take when presented in this undubbed format.

At the end of 'Susan When She Tried' you can hear one of the backup singers do a mistake, which almost brings Elvis out in laughter. But he managed to stay focused all the way to the end.

I think that most people will agree that 'Woman Without Love' is better "as-is", in other words without all the overdubs Felton Jarvis added. In general these undubbed takes display Glen Hardin's piano playing better. Almost always a plus!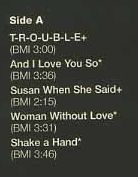 The CD is presented in the more and more common, yet stylish way. We get adequate information from the sessions and the time around. Several nice photos from Elvis on stage have been used. The reproduction of the original albums backside, introduce an embarrassing error however... Susan When She Said!?

In general this double CD is a nice addition to the Elvis collection. I found it interesting to hear these rough mixes, although they provided less "news" than I hoped for. As for outtakes, I would rate take 1 of 'Bringin' It Back' as the highlight. This is a true outtake, where Elvis times the phrasing quite differently than on the master. The sound quality is ok all the way, but I think that some of these masters would have benefited from a totally new mixing from scratch. However, it looks like this is not economic viable on the FTD label. It has been done earlier, on Viva Las Vegas with splendid result and on Live From Memphis with horrifying result, but in general I believe that such efforts will be done on the main label, if ever.

© , Norway, July 2005

Thanks to Charles E. Ackerman
Back to BMG news
---
---